Techradar - All the latest technology news
Get all the latest tech news from Techradar.com
TechRadar is an Official Media Partner for CES 2013
Jan 4th 2013, 00:40
TechRadar is hitting CES harder than ever before this year, not only bringing in our biggest editorial crew yet but also participating as an Official Media Partner for the first time at the annual show.
We're ecstatic about our role and the opportunity it affords us to bring you the most up-to-the-minute, in depth news and reviews in the days leading up to and during the Vegas event.
Not only will TechRadar cover every nook and cranny of CES 2013, we're also bestowing the TechRadar Best of CES Awards sponsored by DTS to highlight the products that really shine.
We'll honor the most innovative gadgets and technologies that showcase groundbreaking design, technology, and user experience in 15 different categories.
Winners like Most Unique Product, Best Tablet (in both Android and Windows), Best Digital Camera, Best Cell Phone (Android and Windows) People's Choice and Best in Show will be announced Tuesday, Jan. 9.
Party time
While we're in Sin City, we'll also be hosting our official U.S. launch party at the Tao Nightclub at The Venetian.
The shindig is going down Tuesday night and will feature performances by Far East Movement and The Crystal Method.
While we're looking forward to letting loose, we know it'll be a great way to kick off CES week in proper Vegas fashion.
Naturally you can turn to TechRadar for all the latest news, scrutinizing hands on reviews and hard hitting analysis coming out of Las Vegas starting next week.
We can't wait for the show to start and hope you enjoy the wild CES ride!

Get ready for ultra scratch resistant Gorilla Glass 3
Jan 4th 2013, 00:38
"Primitive" Gorilla Glass isn't and if an announcement Thursday about what its maker Corning has in store for CES 2013 is any indication, we should see some highly evolved products coming from the company.
The company plans to unveil Gorilla Glass 3 next week, a new glass composition that, according to an Engadget report, is markedly stronger than Gorilla Glass 1 and 2.
A Corning-made feature known as Native Damage Resistance is said to help stymy flaws and scratches and uphold the overall retained strength of the glass even after knicks and dings.
What that means for the scratch-prone phone owners out there is a glass that's three times more scratch resistant, shows 40 percent less visible scratches and commands a 50 percent overall retained strength increase after the glass is damaged.
Fiber time
Also coming to CES are Optical Cables by Corning, fiber-based, device-to-device connectors for Thunderbolt.
The cables are long, strong and take the transmission range of copper-based cables to school, Corning said in a press release.
Corning promised to reveal more on both products Jan. 7, so we'll bring you all the monkey business the company has planned for CES and beyond.

Optimus G2 teased by LG for possible CES debut
Jan 4th 2013, 00:27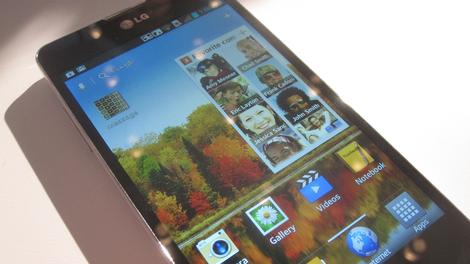 LG is putting its pre-CES hype machine in full gear at the last minute, launching a video teaser with hints of what it will show in Las Vegas.
The highlight of the teaser video is a very brief glimpse of a smartphone, which shows the sleek corner of a device with a thin bezel around the screen.
The smartphone shown is believed to be the LG Optimus G2, a rumored 5-inch follow up to the Optimus G.
The rumored handset is said to pack a 1920 x 1080 resolution display with 440 ppi, putting the 5-inch display to good use for a full HD smartphone.
LG's CES lineup
The teaser doesn't reveal very much else of LG's CES lineup, though that may be because some of it is already known.
Last month LG prematurely announced that it will debut new GA6400 and GA7900 Google TV-equipped television sets at CES. The GA6400 will arrive in 42, 50, 55, and 60-inch models while the GA7900 will have a more premium low-bezel design in 47 and 55-inch varieties.
LG has yet to officially confirm the Optimus G2, though a benchmark leaked last month indicates that it could arrive quite soon.
The prevailing rumor is that the Optimus G2 could launch as early as May 2013, which would help it compete against 1080p handsets on the way from other manufacturers.
With 1080p smartphones already expected at CES from the likes of Samsung and Hauwei, all signs seem to point at the LG Optimus G2 sitting along with them on the show floor. We'll know for sure on Jan. 7 at 8am PST, when LG holds its CES press conference.