Techradar - All the latest technology news
Get all the latest tech news from Techradar.com
ZTE P945 set to pack a monster 5.7-inch display
Jan 4th 2013, 12:08
The ZTE P945 is set to be another high-end device from the Chinese manufacturer keen to establish itself as a proper smartphone firm and not a budget-oriented company.
Details and an image of the P945 popped up on the Evleaks Twitter feed, revealing a super-sized handset sporting a 5.7-inch 720p display, 1.2GHz quad-core processor, 8MP camera and 3000mAh battery.
We can't be sure this is an official phone, but Evleaks has a relatively strong track record when it comes to uncovering handsets.
CES 2013 unveiling?
It's thought that the ZTE P945 will be unveiled alongside the ZTE Grand S (which is probably the international variant of the already announced Nubia Z5) at CES 2013 next week.
In the image of the P945 you'll see China Mobile's logo on the back of the handset, with China expected to be the first region to get the handset sometime in the second quarter of this year.
As for the rest of the world, well we'll have to wait and see. TechRadar will be present at ZTE's press conference at CES, so we'll be able to bring you the full story when it breaks.

Spotify quietly ditches music downloads
Jan 4th 2013, 11:56
Are you one of the eight people who bought music through Spotify? Well, you're out of luck. The music streaming specialist has suspended its download store.
Spotify still displays the option to 'get' songs but when you try and 'get' one, you're told "We're no longer supporting new download purchases on Spotify" and pointed in the direction of an FAQ page with more details.
The company is at pains to point out that you can still access your existing music purchases - and if you have credits or a gift card to use you'll still be able to use them to buy downloads. But new credits and download-friendly gift cards are off the table.
Download and out
Nobody knows how long Spotify has halted the download store for - or how long its no-downloads policy has been in place.
If Pocket-Lint hadn't tried to buy a song earlier today, who knows how long it would have been before anyone noticed - proof, if it was needed, that it was not exactly Spotify's most popular feature.
Spotify isn't letting any more details slip at this point; when we contacted the company, it responded only with "We're no longer supporting new download purchases on Spotify" and not much more.

EA man urges Smart TV makers to embrace Android
Jan 4th 2013, 11:23
The chief creative officer at gaming giant EA believes that the rise of Smart TV will bring a new gaming audience, but only if manufacturers stop making their own proprietary platforms and back something like Google's Android.
With CES 2013 on the horizon, there are several new Smart TV arrivals likely and the potential for connected gaming is clear.
But, speaking to the IPTV News site, EA CCO Richard Hilleman believes that TV companies need to consider abandoning proprietary standalone platforms and embrace more common offerings like Google Android - allowing games developers to code for bigger audiences.
Leverage
"Stand-alone platforms (Linux-based) have historically not leveraged our mobile, console or PC-based titles," he added.
"Open platform systems like Android give us a lot of leverage and still have the freedom to redefine a new user experience.
"We need to be able to aggregate some of the platforms to make product development cost-effective in the short term."
Hilleman also believes that manufacturers need to be aware that different regions may well be seeking very different experiences.
"I think the US and European markets will mostly be interested in products that don't fit in a console experience," he said.
"Shorter duration game cycles - 20 minutes for connected TV, versus two hours at a time for console - Free-to-Play or small price points, and MUCH easier-to-learn gameplay will matter.
"In the parts of the world that don't have high console penetration, I could imagine deeper, longer experiences working, but that will be an evolution.
"I also think in Asia, it will likely be a very high Free-to-Play market in the long term."

Week in Tech: Google's off the hook! So what now?
Jan 4th 2013, 11:19
Good news for Google: it turns out that it isn't evil after all. That's the verdict of US anti-trust investigators, who've spent 19 months deciding whether Google has been behaving badly.
The answer? It has, a bit, but not in all of the ways its rivals allege.
Google has promised not to 'scrape' competitor data and to stop its subsidiary, Motorola Mobility, from demanding extortionate fees for essential patents.
That's small potatoes, though: the US FTC found that as far as the the big allegation was concerned, the claim that Google was deliberately stuffing rivals in its search results, there wasn't sufficient evidence to build a case.
The verdict is pretty much what people expected, but Google's regulatory woes aren't over yet: the EU is investigating it too, and its investigators are expected to come down much harder on Google than the FTC did, not least because Google's market share in Europe is much higher.
Connecting people
Google isn't the only tech giant facing an "interesting" 2013: in our annual list of Tech Trends for the coming year we're predicting misery for Microsoft, interesting - as in the famous "may you live in interesting times" curse - times for Apple, a rocky road for RIM and lots of new goodies.
We're also expecting to see more things connecting to other things: "From cars to coffee machines, if it's possible to control it with an app, someone's going to find a way to do it."
Our phones are already at the heart of everyday computing, but will they replace our PCs too? That's what Canonical, maker of Ubuntu, reckons: it's bringing Ubuntu to smartphones, and it "looks to bring the full desktop operating system to a touchscreen device, giving users a seamless transition between their computer and smartphone."
It's a brilliant idea, says our columnist Gary Marshall, and it won't work. "The key phrase in the press release [is] 'ready to start working with partners'. That's tech-speak for 'we don't have any partners', and without widespread and enthusiastic OEM support any new OS faces an enormous uphill struggle," he says. "I hope I'm wrong, though, because [this] vision is bold and fun... the future is probably a mobile device that powers whatever happens to be nearby."
Our predictions for 2013
So what else is coming down the pipe? We locked our experts in dark rooms with crates of energy drinks, refusing to let them out until they predicted the future, and they rose to the challenge: we now know what to expect from tablets in 2013, what to expect in mobile phones, what to expect from Google, what to expect from Apple and what to expect from business tech.
We've even worked out the odds on 2013's most likely news stories in our Tech Bets for 2013. Too much information? Then check out our iPad sister title Tech., which has all the tech news and predictions you could possibly need, along with some really good jokes.
It's CES next week!
The annual CES bonanza of tech titillation is about to begin, and we're already uncovering news of Gorilla Glass 3 and new phones. Once CES kicks off properly we'll be burning the candle at both ends to bring you all the latest gadget goodness: for the first time ever we're an Official Media Partner, and we're holding our official US launch during CES too. We know, we're excited too, and if you just can't wait for the news we've got an in-depth guide to what you can expect from this year's show.
Oh, and there's one more thing: it's happy birthday to the internet - 30 years old this week.

Sony eyes broadcast with online TV service
Jan 4th 2013, 10:45
The fight for TV-watchers' eyeballs is just kicking off, and Sony is the latest player to be rumoured to be planning a 'net-powered TV service.
According to Variety's sources, the tech company is in "active negotiations" with at least two content companies with a view to licensing their programming.
Not a great deal more is known about this hazy internet TV service, other than that it's potentially set for a late 2013 launch in the US and the fact that Sony is staying tight-lipped on the whole subject.
Making believe
It's not the first time Sony has cropped up in rumours like these, but it's been some time since we last heard one - not surprising, given Sony's myriad financial woes over the past years.
The television industry is notoriously tight knit though, particularly in the US where even Google and Apple have hit stumbling blocks trying to get their broadcast plans in place.
But with word of Apple's iTV television set reaching fever pitch last year, it wouldn't surprise us if other tech companies are scrambling to get their televisual plans in place.
Sony made a big fuss last year about how its products can all be networked - music, images and video can be shared between its home audio systems, phones, tablets and computers, not to mention its Smart TVs and the PlayStation 3 which already offer VOD apps and more.
This television service sure sounds like a logical step for a company with fingers in the hardware, software and content creation pies but it would also prove a massive financial gamble for Sony.
With deals supposedly still being hashed out, it's unlikely that we'll hear any more about this online TV service from Sony at CES 2013 but we'll be keeping our ear to the ground regardless.

Is this the first real glimpse of the Samsung Galaxy S4?
Jan 4th 2013, 10:36
What is supposedly the first press shot of the Samsung Galaxy S4 has emerged online.
The photo was first published by Sam Mobile, which claims to have received it from an "insider at Samsung", who was unable to provide any further detail on the Galaxy SIV.
Unsurprisingly, we're approaching this with plenty of caution after the deluge of fake snaps of the Samsung Galaxy S3 – just take a look at our gallery.
Button-less
The big talking point is the missing home button - will Samsung really do away with the physical button given that it has remained a Samsung staple even on its most recent handsets such as the Galaxy Note 2 and Galaxy Premier?
Although the design of the phone shown here is very similar to that of the Galaxy S3, the screen appears elongated compared to the older phone suggesting we'll see onscreen Android keys – something which Google has wanted manufacturers to adopt even since Ice Cream Sandwich was launched.
We're not holding out any hope that this is the real deal as the image could easily have been faked, but this will surely open the floodgates to more images claiming to show Samsung Galaxy S4 over the coming months.

Samsung launches NX300 Wi-Fi enabled CSC
Jan 4th 2013, 10:20
Samsung has launched a new NX camera to sit in its compact system camera line-up, the NX300 features a 20.3 million pixel sensor.
The company says that the APS-C CMOS sensor is newly designed, while a wide ISO range of ISO 100 - 25600 is designed to improve performance.
Further features include a new Hybrid Auto Focus (AF) system for delivering fast, accurate phase and contrast detection, 1/6000 sec shutter speed and 8.6fps shooting should also mean moments are rarely missed.
A DRIMe IV imaging engine is included to boost colour performance and greater noise reduction, as well as supporting full 1080p HD video capture in both 2D and 3D format.
Shooting
On the back of the camera, a 3.31 inch AMOLED tilting touchscreen can be found, which should be useful when shooting from awkward angles.
In order to shoot in 3D, consumers must purchase an additional new 45mm lens. The NX300 is also compatible with the other lenses in the NX system along with other accessories in the range.
The camera is also Wi-Fi enabled, allowing for instant sharing of images and videos via social networking and email.
Samsung NX300 pricing and availability has yet to be confirmed.

New Asus 10-inch tablet breaks cover in time for CES 2013
Jan 4th 2013, 10:06
Asus is no stranger to Android tablets so it comes a little surprise that the Taiwanese firm is possibly working on a new 10-incher.
Details on the Asus ME301T have surfaced on Icecat, revealing that the slate features a 10.1-inch display, Android 4.1 Jelly Bean and Nvidia's Tegra 3 quad-core processor.
There is 1GB of RAM and by the looks of it just a 16GB variant, which is a little disappointing considering a lot of tablets offer 32GB options such as the Asus-built Nexus 7.
A microSD slot could be included though as previous slates from the firm, such as the Transformer Prime and Transformer Pad Infinity, offer the expandable storage option.
Business time
The ME301T will be focussed more at the business market if product listings in Spain and Denmark are anything to go by, pegging the tablet at around the £250 ($400/AU$385) mark – although we're far from convinced by the legitimacy of the posts and the price seems very low.
Apparently you'll be able to pick up the Asus ME301T Memo Pad 10 – we're not fans of the proposed name either – Wi-Fi only or with 3G connectivity allowing you to access the web on the move.
Asus could unveil a host of new tablets at CES 2013 next week and TechRadar will be there to bring you all the latest, including any details on the ME301T.

Review: Gigabyte Aivia Osmium
Jan 4th 2013, 09:30
While the likes of the Mad Catz STRIKE 7 keyboard are a bit of a guilty pleasure for this here reviewer, I am infinitely more pleased by simpler, more effective keyboard design.
In fact, were it not for the fact I constantly mis-typed my passwords, I would still be using the plain black Das keyboard. Yes, the one with no key markings at all.
So when Gigabyte's latest Aivia range landed on my desk I couldn't help but go a little gooey. And when it lit up blue, I was all over the Osmium like a nun in heat.
The Osmium is utterly retro, but with enough modern extras to make it relevant in today's crowded gaming peripherals market. Take away the sturdy wrist rest and the individual LED backlighting, and you'd be forgiven for thinking you were looking at a Dell keyboard from the early 90s.
For a long while, people round here actually sought out the PS/2 mechanical versions for FPS gaming, such were their accuracy and response.
Expletive deleted
Let's get the gaming specific stuff out of the way first. The Osmium comes with onboard memory for five full gamer profiles, holding up to 70 different macros for the busy player. Flicking between the profiles is a matter of pressing the large rocker switch with the breathing Aivia logo on it.
The five colours indicate the different profiles, and you can access the macro and shortcut functionality via the GHOST macro engine software. You'll have to head to the Gigabyte website to dig out the utility, but it's less than a 12MB download so shouldn't tax your ISP restrictions too much.
As mentioned, you don't have to use the extra five 'G' keys as macros; you can mix and match between macro and shortcut as you see fit.
For me, though, it's all about how good the Osmium is in general PC use. I'm typing this review on the board right now and it's seriously making me consider tagging this in and replacing the Corsair K60 I've been typing on for the last six months. The non-slip coating on each Cherry Red MX key means you won't slip, and the 2mm actuation point on each key means you can be quite delicate with your key-presses and still retain your accuracy.
I'm also really impressed with the LED backlighting, easily accessed by a wheel switch at the top of the board next to the 'G' macro keys. Press the wheel down to toggle the lights on or off, and move it up or down to tune the intensity of the lighting on the fly. I find the top setting a little too bright in normal light - in the dark it would melt your face off like that Nazi officer in Raiders of the Lost Ark.
Next to that is another, similarly useful wheel switch to look after the volume. Having both of these features accessible by a seemingly analogue wheel is very satisfying.
My only real issue is the fact that gaming keyboards now have to cost at least £100 before they can be taken seriously. But considering the K60 is still around £80, the awesome Mionix Zibal 60 is knocking around at £100 and the Mad Catz STRIKE 7 will cost you your first-born male child, the Osmium's price isn't that bad.

Mobile virtualisation and MDM
Jan 4th 2013, 08:00
One of the prime ongoing trends of IT in the workplace is the rise of BYOD (bring your own device) in the business environment. More and more companies are allowing their staff to use their own mobile devices for work, and IT market intelligence specialist IDC has estimated that by 2015 more than 55% of smartphones used for work will be owned by employees.
But this has raised new challenges, especially around security, which are standing in the way of deployments in some businesses. As IT managers work on strategies to meet the new demands many are thinking seriously about mobile virtualisation how to manage the use of devices.
Virtualisation involves simulating the software used by the business upon the mobile device, enabling the user to keep their work and personal activities separate.
IDC has highlighted the potential in its Mobile Virtualization: Accelerating Innovation in Next Generation Services white paper, rating it as "the best solution to help businesses take advantage of BYOD while minimising the risks". The potential is increased by the number of solutions available from companies such as VMware, OK Labs and Red Bend, leading IDC to say these "can address most of the challenges that IT managers face in a post–corporate liable world."
Building at the root
Mobile virtualisation can be most effective when the facility is built into the root level of devices (Type 1 hypervisor), but this requires the participation of the manufacturer and is likely to be expensive. For businesses, using an app (Type 2 hypervisor) is often more cost-effective and gives them more control, but may not provide the levels of security and usability needed, or work with the variety of handsets used by employees.
Once the virtual layer is in place, its control then becomes relatively straightforward as MDM (mobile device management) comes into play. For BYOD users, this control may not be wholly welcome, but with virtualisation, the personal aspects of their devices can be left alone with only the 'business' components under control of the MDM.
MDM is evolving to respond to more app based working practices, becoming MAM (mobile application management), where specific apps are under the IT manager's control. Employees may not regard this as ideal as some of the apps will be inferior to others with which they are familiar, but it provides a level of security that can make employers more comfortable with the trend.
Another approach is to use secure cloud based applications such as WatchDox, Citrix ShareFile and VMware Octopus, that give systems administrators firm control of the security features.
Feasibility
It is also important to remember that a number of components have to work together to enable virtualisation, and it may not always be feasible to allow employees to use the latest smartphone they have bought. Also, MDM control will often rely on a specific application programme interface that must be built into the operating system the phone is using. Current examples include 3LM and Samsung's SAFE.
Apple OS provides something of an anomaly, as the company keeps such tight control over its hardware and software that any form of virtualisation is very difficult to achieve. For the foreseeable future there is likely to be much more focus on devices operating on Android.
IT analyst Gartner has predicted that the increase in BYOD is going to take MDM to a new level. In its Magic Quadrant for Mobile Device Management Software paper it concludes:
"More data is being put on mobile devices today, and enterprises are fast developing their own applications to support their mobile users.
"As mobile devices continue to displace traditional PCs, enterprises will look to their existing MDM systems to support more devices, enterprise applications and data. MDM vendors are moving beyond security to support enterprise and third party applications, data, and content — mobile document management systems.
"During the next two years, we will continue to see MDM platforms broaden out and become enterprise mobile management system (EMMS) platforms, going beyond just devices. This broadening out of MDM EMMS will offer full solutions as more enterprises rely on mobile devices for more usage throughout the workday, displacing traditional PCs, especially for mobile users."
Sensitive data
But virtualisation is not a complete solution. Employees can still access the personal side of their mobile device and send emails etc. that could contain sensitive information, and companies need to ensure they have robust data security policies of which everyone is aware.
IT managers will have to take a view as to how much control and therefore restrictions they will place on their employees use of their data devices
The IDC white paper says that companies need to look at both sides of BYOD: it can reduce the costs of device acquisition, but only if IT managers can find efficient methods to manage devices connected to their networks and ensure the integrity of corporate data.
"Mobile virtualisation provides a cost-effective solution that will help IT departments provision an approved virtual phone that uses a standard baseline on employee-liable devices so that they don't have to try to support three or four operating systems simultaneously," it says.
Business will have to find a middle ground where data devices can be used openly, yet have a level of lock down to appease system administrators, and this increasingly means a new form of MDM.
Currently, MDM is a moving target that all IT managers need to track very closely indeed.

Nexus 10 tablet back in stock at US Google Play store
Jan 4th 2013, 00:28
The Nexus 10 tablet is once again for sale on the U.S. Google Play store website today, marking the first time the popular device has been in stock since the holidays.
This Samsung-manufactured 10-inch tablet now displays a much more pleasant "Shipping Soon" status on its official page, replacing the previous "Sold Out" text in an unfriendly red font.
Google promises to ship both the $399 16GB and $499 32GB models of the Nexus 10 to U.S. consumers "in less than one week."
Nexus 10 inventory has been stretched since its Nov. 13 release date, and remained sold out for many anxious holiday shoppers.
Tech specs are central to Nexus' popularity
The Nexus 10 has proved to be popular with consumers in part because of rave reviews and its powerful tech specs.
Most noticeably, its screen rivals the "Retina display" of an iPad 4 thanks to a 2560x1600 pixel resolution. That's currently the world's highest resolution for a tablet.
And yet, when it comes down to the price, the Nexus 4 vs. iPad 4 debate has Google's tablet winning with a $399 (compared to $499) starting price.
To make the deal even sweeter, Google threw in a Jelly Bean - as in the latest version of its mobile OS, Android 4.2.
Everyone wants to connect with a Nexus
Nexus 10 hasn't been the only Nexus-branded device in high demand on the Google Play store.
The Nexus 4 smartphone and budget-friendly Nexus 7 tablet were also sold out throughout the holiday season.
In fact, the Nexus 4 is still out of stock. It was snapped up by U.S. consumers when it first launched on Nov. 13, and Google has rarely resumed regular shipments.
Nexus 4 hopefuls may have to rely on T-Mobile to find the elusive smartphone later this month, according to the latest reports.
Both the Nexus 10 and Nexus 4 faced setbacks right out of the gate. Hurricane Sandy forced Google to cancel the New York City press conference intended to announce the devices.
Hopefully Google's announcement and inventory luck changes by the time it brings the Nexus development completely in-house with a still-far-off Motorola-made Nexus device.

Updated: CES 2013: what to expect
Jan 3rd 2013, 23:58
The Consumer Electronics Show, or CES, is one of the largest showcases of new technology in the world.
Hosted by the Consumer Electronics Association in Las Vegas, CES 2013 will open to press and exhibitors from every facet of the electronics industry, and TechRadar will be there.
We'll descend upon the gambling capital of the world for four days of basking in the glow of the latest computers, televisions, cameras, phones and more.
With plenty of winners and losers, last year's CES 2012 was big news for many reasons.
First, the show floor opened on January 9, a week later than usual. LG and Sony unveiled 55in Ultra High-Definition TVs, then the largest in the world. Intel gave us a glimpse of the touch enabled Ultrabooks we've been seeing everywhere lately.
Last and most notably, Microsoft CEO Steve Ballmer gave the company's last CES keynote, introducing the world to Windows 8's Metro interface, and announcing Xbox 360 apps for Fox, IGN and more.
To follow that, CES 2013 will be a mix of keynote razzle dazzle, sneak peeks at the latest tech, and introductions to products that will go from patently unaffordable to a given in every living room, a lot faster than you'd believe.
Before TechRadar hits the CES 2013 show floor from January 8-11, we thought we'd put together a preview of the gadget glory you can expect from our on the ground coverage.
Gorilla Glass 3 rumbles through the CES jungle
Corning is going bananas with ultra durable glass, announcing ahead of the Vegas show we'll see the third generation of its Gorilla Glass system at CES.
Promising three times more scratch resistance than previous versions, Gorilla Glass 3 is built to last with nary a knick.
We'll also see some Corning fiber optic cables for Thunderbolt hit the Vegas floor, too.
Optimus G2 goes prime time
LG is clearly excited for CES 2013 if a YouTube video posted just days before the event is any indication.
Not only do we get techno music and quick cuts, we also get a glimmer at what very much appears to be a smartphone.
It's not the most revealing video, but it offers the very real possibility a thin bezeled phone that could very well be the Optimus G2. The phone should be a 5in follow up to the Optimus G, packing a 1920 x 1080 resolution with 440 ppi.
The unprecedented awaits
Out-of-the-box TV design from Samsung
Samsung is playing a mean wait-and-see game when it comes to its CES announcements, teasing Dec. 31 that the "true innovation" in TV is coming to Las Vegas sometime between January 8 and January 11.
Promising an unprecedented TV shape and "timeless gallery design," this particular Samsung television offering looks to have a translucent screen, at least according to an eerie promo pic. We could also see a bezel-less, edge-to-edge display if totally translucent isn't in the cards.
Whatever it has planned, we're mystified by Samsung's hints and hope we can wrap our heads around it come CES.
LG goes hectic with Hecto projection system
LG and Samsung are in a bit of a battle when it comes to pre-CES announcements as the former announced it will bring out a Hecto 100-inch Laser TV complete with projection unit at the Vegas show.
We're talking 1080p full HD images projected from a mere 22in away. We're talking the ultimate movie watching experience, including 3 HDMI ports, Smart TV and Digital TV functionality and a projection unit with bulbs that can last up to 25,000 hours before replacement.
Hopefully we'll get word on pricing and availability on the Hecto unit come show time, but it'll be fun to watch a flick or two nonetheless.
Serious Series 7 offerings by Samsung
Samsung has let it be known far and wide that it has some monitors and new laptops in store for CES 2013, including a first of its kind.
First it revealed it will show two new Series 7 monitors come early January, the SC770 Touch Monitor and the no-touch SC750. The SC770 is the South Korean firm's first multi-touch monitor built around Windows 8.
We'll also see an enhanced Series 7 Chronos at the show plus the first Ultra in the Series 7 family. Both feature Full HD screens though only one (hint: it's not the Chronos) will have more than one processor option.
New Google TV sets by LG
This is more of a "100 per cent sure" than an "expect," but LG is primed to unveil some new Google TV sets come CES.
We're looking at five different sizes of the GA6400 series, ranging from 42 to 60in, while the GA7900 will come in 47 and 55in iterations.
The screens aren't going to be the most awe-inspiring sets at CES, but we're interested to see where LG is taking Google TVs heading into 2013.
Credit: PhotoRumors
Android-packing Polaroid with interchangeable lens
Polaroid's president and CEO couldn't have made it any clearer: "There will be an Android powered, interchangeable lens camera introduced by Polaroid at CES 2013."
We saw a "smart" snapper at CES 2012, and can't wait to shoot around with this interchangeable lens version. From a leaked marketing photo, the snapper - possibly called the IM1836 - resembles Nikon's J1/J2 and features a whole host of goodies.
Samsung Display's bendable screens
One of the more playful products we expect to see at the show are flexible screens from Samsung Display.
Company reps confirmed to CNET that there will be a 5.5in bendy display with a resolution of 1280 x 720 HD and a pixel count of 267 ppi. Samsung's LCD-producing spin-off company is also throwing in a 55in TV version for our viewing (and manipulating?) pleasure.
Things are going to get twisted down in Vegas, that's for sure.
Ascend W1 and 'too powerful' D2
Huawei has not one but two phones confirmed for the Vegas show: the Ascend W1 and Ascend D2.
The W1, as the "W" suggests, will be Huawei's first Windows Phone foray, while the D2 is getting an Android OS.
While both should be fun to put under the microscope, Huawei's CEO has expressed trepidation that the 5in D2 will be too powerful and thus too expensive for the average consumer.
It's 1080p display, quad-core 1.5GHz processor and 13MP camera are certainly specs to admire.
Staggering 110-inch UHD TV from Samsung
Samsung isn't slacking in its CES plans, as rumors surfaced December 17 that the firm was planning to unveil a 110-inch Ultra HD TV come show time.
A Korean tech site's source said the company also has OLED TV designs for Vegas, creating the perfect storm for a "my TVs are totally the best, yours' belong in a heap" showdown between Samsung, LG, Sony and even Westinghouse.
All we want to know is: can we get a 110in set for the office?
ZTE's Grand S does a 5-inch entrance
This phone was a bit of a mystery for a good 24 hours, before the CES press page gave us a helping hint at what the Chinese manufacturer's 5in handset would be called.
The ZTE Grand S is set to debut January 8 at 1:30 p.m., bringing the company's first FHD smartphone and, according to the press blurb, "the world's thinnest for 5in FHD smartphones."
It will be made of ceramic and feature "traditional Chinese style," whatever that means for a phone.
YouTube : http://www.youtube.com/watch?feature=player_embedded&v=EWoAxkMmOLk
Samsung announces major new product
Hold onto your oversized souvenir drink - Samsung has an earth shattering announcement planned for CES.
At least that's what the South Korean company would have us believe in a teaser video it recently posted.
While short on details, the video implores the world to "get ready" for something we've all been waiting for. We've touched on the rebranding rumors, the Galaxy S4 and even a QWERTY tablet.
While Samsung could announce one, none or all three of these products, it could have a product up its sleeve that leaves up entirely blindsided. We kind of hope for that...
A Red Ridge tablet from Intel
A recent filing at the U.S. Federal Communications Commission revealed an intriguing device illustrated with a label that read "Red Ridge."
Red Ridge is Intel's Medfield-based tablet platform, and while that news is certainly noteworthy, what makes us think a tablet could show at CES is that the device tested was reportedly a "production unit."
That means we could see a commercial model in a month's time - or just about when CES' doors open.
A 110-inch 4K LED TV
Westinghouse isn't being shy about it's ambitions to present the "world's largest" 4K LED TV at CES. The company said as much in a press note.
While it won't be the biggest TV out there (Panasonic's 152 incher takes that crown) it will be interesting to see how the company prices this puppy.
Though it beats out Samsung's 85in behemoth in size, because it's a lesser manufacturer, we could actually see a price tag that the non-Jay Z's of the world can afford. Either way, it'll make watching football really engrossing.
HTC might unveil a new phone or two
Mere months ago HTC released two killer devices into the marketplace, the Droid DNA and the HTC One X+. Apparently that wasn't enough for the Taiwanese manufacturer. If a couple of recent rumors are true, HTC has a couple more smartphones up its sleeve.
The first rumbling came back in June when a possible line-up of HTC Windows Phone 8 devices was leaked, the headliner being the 4.7in HTC Zenith. Then another WP8 device, the HTC Titan III registered on our radar thanks to a survey on Xbox Live. Now just a few days ago we caught wind of the HTC M7, which the rumors peg as a possible 5in flagship device.
If these leaks have any merit, big handsets would seem to be a running theme for HTC. After the iPhone went over 4in, everyone seems to be upsizing. Maybe this is HTC's new angle after it bowed out of the US tablet market?
LG gives CPU making a try
The rumor mill is turning even faster as the days wind down to CES 2013. One thread we keep seeing pop up is processors, and LG is the latest to jump in the mix.
A report out of Korea has the tech firm producing in-house made CPUs next year, starting with chips for its web-capable Smart TVs.
One chip could be the H13, with the H standing for home entertainment and the 13 for the year, and we could see it and others come early January.
A tablet to take notice of
There's a good chance we'll see a good number of tablets at the show, but there's two we've heard about recently that could really turn some heads.
Asus is reportedly working on a tablet with the model name ME172V, a slate that could reach no more than 7in, come with a microSD slot for expandable memory and flash a price that puts the Google Nexus 7 on notice.
And while Samsung's Galaxy S4 is stealing most of the South Korean company's 2013 thunder, we've heard the firm might be planning a 13.3in tablet to take on Asus' Transformer series.
The 13 incher would even feature a QWERTY keyboard dock.
Intel to outline new tablet chips
In the mood for some T-time?
Intel is supposedly prepping the introduction of a next gen processor at CES 2013: the Bay Trail-T.
The Bay Trail-T is rumored as a quad-core scheduled for a 2014 launch, though CES will see the series' debut plus info on what manufactures are building slates based off the Trail-T.
A SoC sibling is also expected at the Vegas show. Dubbed the Valleyview-T, the chip could take on Nvidia's Tegra 3 and Qualcomm's S4.
Look for long battery lives plus 22nm prowess, superior audio, boosted memory capacity and amped up graphics when used in conjunction with the Gen7 Intel GPU. There's even talk 3D video recording could be in the cards.
Galaxy S4 with Full HD Super AMOLED display
As the major hardware manufacturer taking up CES real estate, it's no surprise Samsung should (so far) dominate the rumor mill.
This one has a Full HD Super AMOLED display arriving at the show, but that's not all: chances are we'll see such a screen housed inside the Galaxy S4.
A Samsung source reported that the display's resolution will reach 1920 x 1080 and a staggering 441 ppi, but the real point of interest is in the ultra-thin and energy efficient AMOLED technology.
Fingers crossed Samsung decides to bring a SIV with such a screen as its CES carry on.
Huawei Ascends take flight
With Windows Phone 8 reveals by Nokia, HTC and Samsung already in the books, it was easy to forget that a fourth manufacturer received a Microsoft nod to use the new OS.
China's Huawei confirmed just a few weeks before the show that it will bring its WP8 dish to the party in the form of the Ascend W1.
Though the Ascend W1 will be the last guest to arrive, it may turn out to be the phone everyone flocks to if a cheap asking price is tacked on.
The firm may also introduce the higher-end Ascend W3, a phone with a 4.5in display that recently leaked online.
World's largest Ultra HD TV from Samsung
Can you say "whoa?" Samsung is about to set mouths agape with an 85in Ultra HD LED TV, "the world's largest commercialized UHD LED TV."
The company made the over eight million pixel tube official November 12, and we're looking forward to standing wide-eyed before the mondo television that probably makes the lights on the Strip look like dying flashlights.
Samsung rebrands itself
Despite having the best-selling smartphone in the world and running an operating system on clip to eclipse all others, Samsung is reportedly preparing quite the rebranding at CES 2013.

While we don't necessarily anticipate a radical image reimagining, we do expect Samsung will take advantage of the stage (and a keynote speech) to introduce a new facet to its business identity – a refresh, as it were.
One of CES's exhibit categories is "Digital Health and Fitness," so Samsung will likely tack onto that theme with the introduction of products (or the retooling of current devices) that fit into the health and wellness category.
Samsung has reportedly hired a design team that's worked with Nike on some of that company's branding initiatives, so we'll likely see some dynamic stuff from South Korea in Vegas.
As Samsung continues to grow from an Asian powerhouse to a global one, how it sells itself to a broad international audience will be key to its future.
We expect Stephen Woo, president of Samsung Electronics' device solutions division, to set the tone of the company's refreshed self during his keynote address January 9.
The debut of Ultra High-Definition television
It took a while but CRT televisions have finally become the stuff of garage sales and trips to grandma's house, and 3D screens have just started to crack the home market. Now everyone's lovely flatscreen is about to become a little bit obsolete, thanks Ultra High-Definition.
After a brief flirtation with 4K high-definition, the CEA settled on the name Ultra HD. However, Sony, always one to buck a naming trend (remember Blu-Ray vs. HD-DVD?) has said it will stick with numbered moniker, calling its pixel-dense displays 4K Ultra High-Definition (4K UHD).
Still, everyone seems to be in agreement over the spec requirements set by the CEA, defining what it takes to be called Ultra HD. According to the group, Ultra means at least 8 million pixels, with a minimum resolution of 3840 x 2160, and an aspect ratio of at least 16 x 9.
Now the question is how big will the screens at CES 2013 be? There's debate between engineers as to whether anyone can even tell the difference between UHD and regular HD on a display that's less than 100-inches. And when will these TVs become affordable? Right now they're around $20,000 (UK£12,515, AUD $19,210), keeping them firmly in Donald Trump and Richard Branson territory.
Intel introduces a new mobile processor, stakes its claim
Intel is probably one of the most recognizable names coming to CES 2013, though it's not the only chipmaker making a stand on the Vegas exhibit floor.
We expect Intel to show up big at the event, schooling the competition on how it's done, and very likely announcing a new mobile processor or two as well as some destined for PCs.
Intel is in an interesting position in terms of its mobile future: although it claims to have 20 Windows 8 tablets sporting its new Z2760 processor coming to market soon, the firm's chips are currently only found in six smartphones.
ARM and its licensees (Nvidia and Qualcomm) are making a killing in the mobile space and all are heading down to Nevada for the show, creating a perfect storm for one-up-man ship on the Strip.
ARM-based chips, while found in major money makers like the iPad and various Android tablets, aren't terribly up to snuff when it comes to processing prowess.
Yet Intel hasn't even breached the realm of relevancy smartphone space, making CES the time where it needs to stake that claim.
There's been talk that Apple may chuck Intel as its CPU provider in the coming years. Cupertino recently developed a poppy processor for its iPad 4 – the A6X – a chip that's reportedly twice as fast as those found in older iPads.
For that reason alone, Intel has got to show why it's relevant in mobile and why it deserves to be considered the top chipmaker in the world now and for years to come.
We'd love to see Intel not only announce a new mobile processor, but unveil a new partnership. It's got to prove it can work well with others (and capture consumer imagination) if it hopes to move deeper into smartphones and tablets.
Nvidia trumps out Tegra 4
Nvidia's Tegra 3 has done quite for itself this year, jumping into phones like HTC's One X+ and tablets such as Google's Nexus 7 and Microsoft's Surface.
That doesn't mean Nvidia doesn't have its eyes to the horizon, and we believe the company will introduce its Tegra 4 processor come CES.
Word of the T40 (the new Tegra's model number) got going in April, with a report pointing to early 2013 as the time the Tegra 3's successor would ascend the throne.
At the time, it sounded like the Tegra 4 would fit four new Cortex A15 ARM chips, taking it way past the A9 Cortex chip summit.
Speeds of 1.8GHz are probably going to be average for the new processor, while by the middle/end of the year, 2.0 should be its cruising GHz.
If we're lucky, we might even see an Android or Windows 8 tablet poke about with the Tegra 4 inside.
Microsoft's show no more
The Consumer Electronics Show has long been Microsoft's chance to shine. The software giant has always given flashy presentations, usually involving celebrities. Shaq, Conan O'Brien, Ryan Seacrest, Dwayne "The Rock" Johnson and more have all appeared to help co-founder Bill Gates and current CEO Steve Ballmer show of the company's latest tech.
Sadly, CES 2013 will be the first year where Microsoft won't be giving one of its signature keynote presentations. It gave the world plenty of notice, saying in December 2011 that CES 2012 would be its last. Steve Ballmer's last presentation at the Las Vegas trade show focused on Metro, the new Live Tile-based interface for Windows 8.
Companies have moved quickly to fill the space left by Microsoft's exodus. Qualcomm has nabbed the open keynote slot. The telecommunications mogul will be giving its Born Mobile keynote on Monday, January 7. Meanwhile, satellite provider Dish and appliance manufacturer Hisense snapped up Microsoft's booth space in under an hour.
However, Venturebeat has quoted CEA president Gary Shapiro as saying, "Microsoft will have something" at CES 2013. While it's unknown what that something will be, there are plenty of possibilities. More Windows Phone 8 devices? A Microsoft Surface Pro running Windows 8? Its all in the realm of possibility.
LG unveils Smart TV platform underpinned by HP's webOS
While we expect LG to march out a bevvy of phones and TVs, including some we haven't seen before, what's really piquing our interest heading into the new year is word that it may launch a Smart TV service based on webOS.
webOS, the open source system developed by HP, could take the reigns from LG's antiquated NetCast Smart TV interface during the show, a move that wouldn't leave our jaws dropped.
HP delivered on its promise to walk out webOS to the public by September, a vow it made in January, and now it needs a big product and solid partner to get its face out there.
The marriage between the two should be equal – reports have HP providing the OS while LG will plug in its dual-core L9-powered motherboards.
If our expectations pan out, we'll likely see the death of LG's small screen partnership with the struggling Google TV service, a relationship LG championed at CES 2012 yet has since cooled.
Automotive electronics
The CEA estimates that factory-installed automotive technology will generate $8.7 billion dollars in 2013, so it's no wonder seven major car companies will be on the show floor.
Audi, Chrysler, Ford, General Motors, Hyundai, Kia and Subaru will be joined more than 100 auto tech companies displaying the latest in-car tech. This is a record setting presence for the automotive industry at CES.
Displays and presentations will include electric drive technology. GoElectricDrive TechZone will demonstrate electric vehicles paired with their respective charging stations, ones that can be used at homes and in public facilities. The Safe Driver presentation will show more than the typical hands-free devices, highlighting technologies that can help drivers park, watch their speed and avoid collisions.
However, not everything between automakers and car tech designers is completely sunny. With so much hardware being put into cars before they even leave the factory, will the aftermarket industry be facing an all-time low? A presentation titled "Are Automakers Running the Aftermarket Off the Road?" will address the issue.

Nexus 4 will hit T-Mobile stores this month, says report
Jan 3rd 2013, 21:35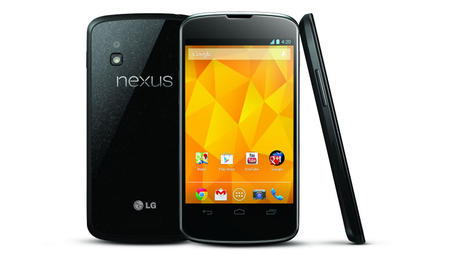 Google's Nexus 4 Android Jelly Bean smartphone is notoriously difficult to find, but that could be about to change.
A report that surfaced on Wednesday claimed that the Nexus 4 will become available in T-Mobile retail stores across the country by the end of January.
The report cited what appears to be an internal T-Mobile memo or email with the heading "Field Sales News" that was apparently sent out on Monday.
The message reads, "The Google Nexus 4 will launch in all T-Mobile retail locations in January," and appears to recommend that employees review the device in preparation.
Confirmation from T-Mobile
The message also confirms that "the [Google] Play Store will continue to carry the Nexus 4."
This seems fairly cut and dry. However, the source of the memo is unclear, so TechRadar reached out to T-Mobile to find out if it's legitimate.
A T-Mobile spokesperson responded that, "The Nexus 4 will be available nationwide in T-Mobile retail stores and select national retail stores and select dealers."
"We don't have specific timing just yet," he added.
The shortage so far
Nexus 4 supplies have so far not been sufficient to meet demand for the device, with would-be buyers in early December facing wait times of up to five weeks.
It got so bad that Google even issued an apology in mid-December, blaming LG, the manufacturer of the Nexus 4, for the shortage.
On Thursday, it came to light that the short Nexus 4 supplies may be even worse than one would have imagined, when a group of Android enthusiasts determined that there may only be 400,000 of the phones in existence right now.
That number is not confirmed, but either way, a wide release in T-Mobile stores will be a major boon for the carrier, Google and customers alike.